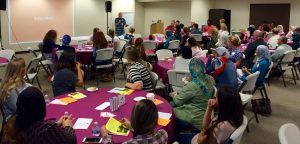 "Are you nervous? Because I'm nervous!" The crowd giggled — yes, nervously — at the presenter's pointed honesty at the third "2 Faiths 1 Friendship" Mixer last Saturday afternoon. Since the theme of the afternoon was self-awareness, we tried to appropriately honedin on the emotions in the room of over 100 Muslims and Christians gathered together in the name of peace building and friendship.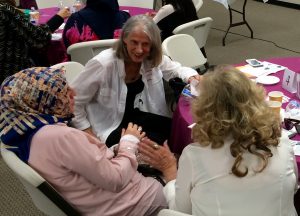 The majority of attendees were first-timers and unsure of what to expect from the event, but the energy in the room shifted quickly from nervousness to excitement as the group split into their age-appropriate workshops. Both a Muslim and a Christian instructor led each of the three workshops in self-awareness activities that encouraged reflection about God's unique purpose for every one of us.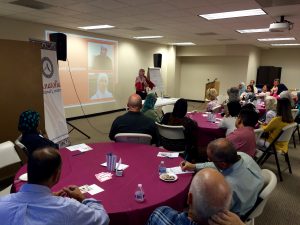 As one of the instructors for adults, Noha, put it, "Unless we understand ourselves better, we could be reacting to what is going on around us rather than being in charge of our situations. The best way to come to know and understand our auto pilot is to gain awareness of our emotions." In other words, the first step to becoming a Change Agent is to gain awareness of ourselves and our individual roles in the collective responsibility to facilitate peace on earth as practicing Muslims and Christians.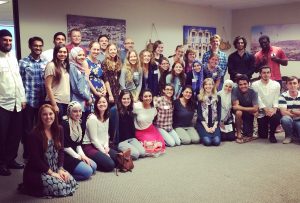 During their workshop, the young adults talked about learning to understand how God had made them and what that means for sharing stories of your life with others as a way to build bridges. After an introduction they split up into small groups and started sharing their stories. Upon reflecting together, they came up with many creative ideas on how they could continue to grow in friendship and join hands to make a change in their environments and around the world.
It is inspiring to see young and old rally together to learn what it means to become who God has made them to be and put their gifts and talents in action to make positive changes in Muslim-Christian relations and society at large.
For many more pictures and stories, check out our Facebook Album.