This post is written by our awesome Intern, Cliff. He helps with our events, builds new connections with Muslims and Christians interested in peace-building, does research projects, and so much more. He rocks!
Interested in interning with us as well? Email us: 2 faiths 1 friendship @ gmail . com
******
Thank you to all those who came out to Pasadena this past Sunday for our biggest Friendship Mixer ever! Muslims and Christians joined us from as far south as San Diego and as far north as Santa Barbara. What's more, close to 80% of those who attended had never been to a Mixer before. The excitement in the room was palpable!
The evening began just like the previous Mixers, with mounds of delicious food.

The opening presentations were kept short so that time could be devoted to the most important work of the evening, conversation and mixing between Muslims and Christians.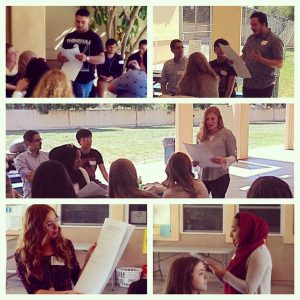 The young adults (25 and under) spent their time outside in the beautiful California weather building friendship. They brainstormed creative ways to extend those friendships to their broader faith communities in order to build peace between them. This group is an essential part of the peacebuilding process, and it was so exciting to see them at this event.
In the adult group, people were challenged everyone with three discussion questions about the bridges between our two faith communities, the barriers between us, and finally how we can overcome those barriers. He joked that we might solve the world's problems by the end of the afternoon with our answers to these questions. The room filled with conversation and ideas abounded.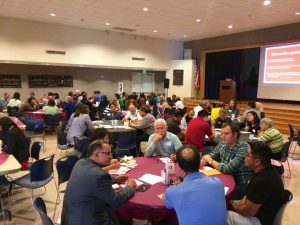 At the end of the discussion, every table share their major idea for overcoming the barriers between our communities. The first response at one table was that this Mixer was a great start! At the end, everyone agreed that there were many ways to overcome the barriers between our two communities. Some suggestions included Muslim-Christian book clubs, Scripture studies, and service projects. Others suggested ideas like hiking and group coffee outings.
There are many things we have in common and those commonalities can be used to overcome our barriers. Before everyone left, many people exchanged contact information in order to start putting some of the ideas into practice.
Then we took a group picture as an example of practicing Muslims and evangelical Christians hanging out together.
Did we solve all of the world's problems in a single afternoon?
I guess you'll have to come to the next Mixer to find out!

**For more pictures and stories check out our Facebook Album**