"Merry Christmas!!" a familiar greeting was met with excitement as Christians opened their doors to Muslims this Christmas season. Gathered around a cozy table were people of two faiths, united in one friendship!
This December, Christmas dinners were hosted through 2 Faiths 1 Friendship with the goal of helping Muslims and Christians meet in the context of a cozy home, fostering organic friendships. In previous years, Muslims signed up as guests and were matched with Christian hosts who live nearby.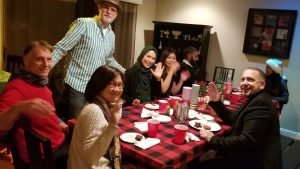 This year was special – for most of these dinners, the hosts personally invited their own Muslim friends! Muslims and Christians who met through 2F1F had continued to deepen their friendships over the years. Just like any Christmas dinners with visiting family members and friends from afar, tables were surrounded by familiar faces & smiles. A Muslim guest shared, "We met our hosts a couple of years ago, and just like always we never ran out of things to talk about!"
Others have taken a 2F1F Peace Training in the past and have since started their own organizations or initiatives. Creating their own unique way of bringing people together that works with their communities (a few of their pictures are seen in the video below).
Describing the evening, a Christian host wrote, "we started with appetizers in our living room by the Christmas tree as my husband read through the passages that describe what Christmas is all about… Then we had a great potluck meal in our dining room with Halal Lamb I had marinated and grilled. Everyone made a side dish, salad, or dessert so we got to enjoy each other's cooking. We plan to share recipes!!"
Even details like preparing a halal meal for Muslims expressed love. "I felt comfortable… and was touched that she had taken the trouble to learn about the Muslim requirement of halal," wrote one Muslim guest at another dinner.
Besides the excitement of "Never-Have-I-Ever" games and delicious food, the value of a shared meal lies in the blossoming of friendship. These dinners "break barriers and get people out of their comfort zones," wrote one Muslim attendee. "People from different branches of Christianity and Islam can be good friends! We have lots of common things to talk about," commented another.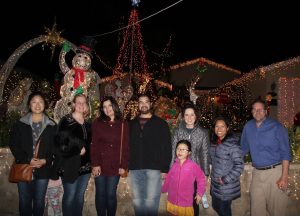 For one Muslim guest, this Christmas dinner was particularly special. He shared, "I used to feel lonely around Christmas because my family lives oceans away. Christmas is a special time for us because both my aunt and uncle have birthdays on the same day, the 26th, so we all used to celebrate the holidays together. The small intimate gathering really gave it a family style feeling."
One Muslim guest made an especially heart-warming comment: "Even though one of the hosts grew up with family that was prejudiced, his experiences led him to be the opposite and be very tolerant. They were very accepting…"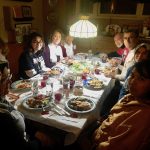 It is not rare for people to grow up in prejudiced families. In the midst of this social climate, this is the vision of 2 Faiths 1 Friendship: that prejudice would fade as people are known by name, not just religious title. "When you get to know someone who doesn't look like you, or have the same faith as you," said a Muslim attendee, "you understand the common humanity between you."
When asked how our Christmas dinners could be improved, a guest wrote, "I have no suggestions, except that I would like to see even more people having these dinners." Perhaps next Christmas, or even this spring for Ramadan, you, dear reader, may join us. 😉