Peace is a daily, a weekly, a monthly process, gradually changing opinions, slowly eroding old barriers, quietly building new structures.


~ John F. Kennedy
At 7:30pm, the doorbell rings.
On one side are the hosts, who, despite having been fasting for 16 hours, have prepared a delicious iftar dinner. They are excited to share this meal but are also nervous about hosting strangers at their home.
Will my guests feel comfortable? Is there enough food?
On the other side of the door are the guests, Christians who accepted the dinner invitation, carrying gifts for the hosts. They are also a bit nervous:
Will I accidentally say something wrong? Will I like the food?
Then, the door opens, each group takes a step toward the other, hands are unfolded in greeting and names are exchanged alongside tentative smiles. The evening has begun.
Hosts and guests have overcome one of the biggest barriers in getting to know one another: fear of the unknown. Check out the video for more of the story!

A BIG THANK-YOU to all the Muslim hosts. Their peace-building work of making a personal connection is what changes hearts and minds. 
---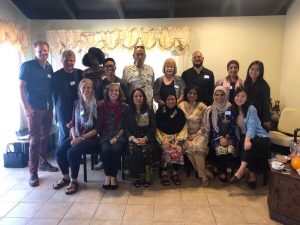 For the first time this year, not only were iftar meals held, but Christians were also invited to Eid celebrations. This is another wonderful way for Christians to learn more about the life and faith practices of Muslims!
---
Looking to the future:
2019 marks the fifth anniversary of this 2F1F Ramadan Dinner Initiative. To date, 84 Muslim families have graciously hosted 256 Christian families and friends in Southern California. Praise God!
Besides people deepening existing relationships that have formed in the past few years, the aim is to always have new people getting exposed to this form of peace-building. This year, more than half of the Christians met Muslims for the very first time in their lives!
Not only is this making a difference locally, the 2F1F story is starting to spread. Join Us!